I discovered today that this "government" of ours is currently holding a "conversation" about 'Increasing the value of Australia Citizenship'?
Have a read of their blurb, then have a think about it, and remember that Mr Dutton has already admitted that he thinks it should be something that the Minister alone can rule on.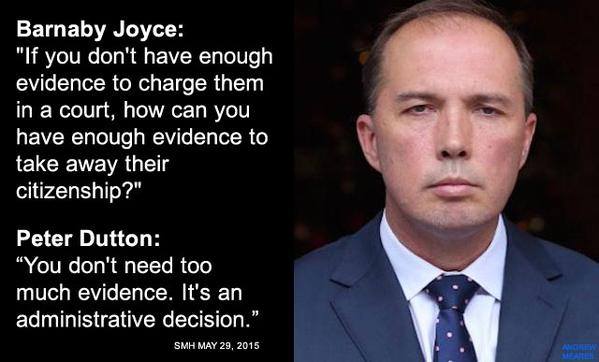 Here's the blurb about it – the link to the survey is at the bottom of the page, just click on the "how to provide your views" button to get there
This is the direct link to the survey.
Courtesy of LeoneTwo over at The Pub, I also offer the answers of one Curmudgeon who has kindly provided his answers to this survey. It might give you a start, it will certainly inform your own conversations about this topic.
Personally I am not overly impressed. After all, I probably fall into the demographic that is likely to offend Mr Dutton (the Minister concerned) by objecting to his desire to remove citizenship from any person who has or is eligible for dual citizenship with such a remarkable lack of evidence or oversight by the law or judiciary.
I think I have read/watched too many dystopian stories not to want to fight against this brain-dead brain fart of the nut jobs in this country. The LNP's polling must be absolutely rock bottom for them to start dragging out such anti-democratic, anti-liberal crap. And if this is an example of their desires, it is deservedly at rock bottom!
Please consider completing the survey. Perhaps we might be the pebble that starts the avalanche that starts Australia back to a more humane country again.
I'm getting sufficiently annoyed that I might just Do Something!